Open Gym
---
Open gym is free play on all equipment; it is not a structured class. Children can spend extra time in the gym working on their skills and having fun with friends in a safe environment! PGC coaches will be present to supervise, answer questions and interact with your child!
| | |
| --- | --- |
| Age Range* | 3 to 17 years old |
| Gender | Girls & Boys |
| Date | Sunday, Oct 8th |
| Time | 12:00 PM to 2:00 PM |
| Fee | $15 per child, per hour (CASH only) |
| Student Ratio | 10 : 1 |
*Children 3-5 years must be accompanied by a parent or guardian inside the gym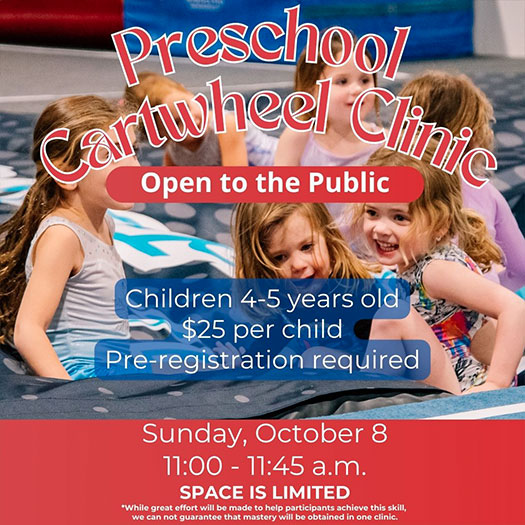 PRESCHOOL CARTWHEEL CLINIC
---
A great opportunity to learn a favorite skill of gymnastics and tumbling! Coaches will emphasize the importance of correct technique by using drills and stations to teach the basics. Participants will practice fundamental handstand progressions as a way to perfect their cartwheels.
Disclaimer: While great effort will be made to help participants achieve this skill, we can not guarantee that mastery will be obtained in one clinic.
| | |
| --- | --- |
| Age Range | 4-5 years old |
| Gender | Girls & Boys |
| Date | Sunday, October, 8th |
| Class Duration | 45 Minutes |
| Time | 11:00 AM to 11:45 AM |
| Fee | $25.00 Per participant |