Discipline, Focus & Skill
---
NinjaZone is a fun and thrilling new program for kids, in which they'll develop core skills through gymnastics, martial arts, obstacle course training and freestyle movement. NinjaZone allows kids to hone in their excitement and abundance of energy into an activity course, aimed at growing both physical and mental abilities. The course is set up so that progression is left up to the kids, each able to move at their own pace and build their own experience. By letting children advance individually, within a defined and collaborative program, children of all ages and genders receive more than just athletic gifts. They gain confidence, friendships and best of all, have a fun time!
For more information on the program visit the NinjaZone website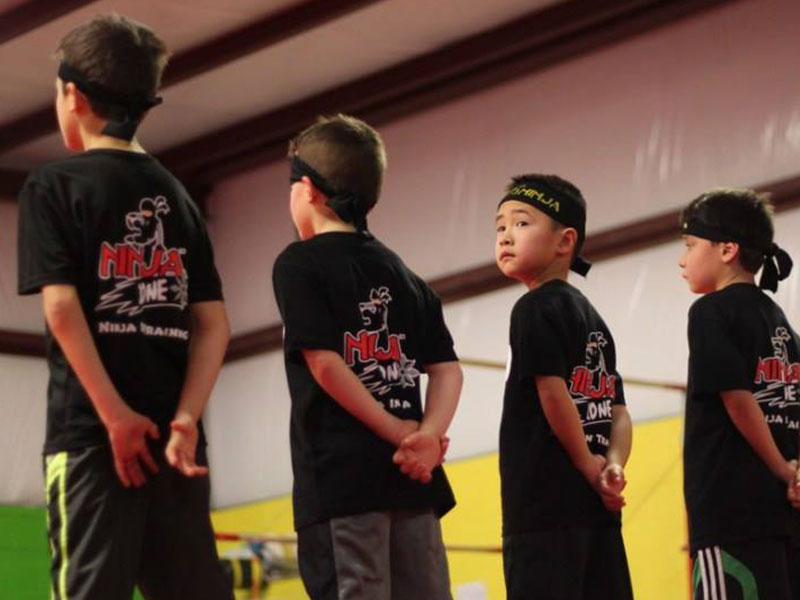 Ninja Training
---
Children learn a combination of flips, rolls, jumps, and kicks. Strength and agility are tested through obstacle courses and various training techniques. A progressive level system evaluates and advances children in their skill and knowledge of core values as described in the NinjaZone creed. Children advance and learn at their own pace.
The levels of NinjaZone are defined by colored headbands, being White, Yellow, Green, and Blue.
| | |
| --- | --- |
| Age Range | 5 to 8 and 9 to 12 |
| Gender | Co-ed |
| Class Duration | 60 minutes |
| Frequency | Weekly |
| Student Ratio | 8 : 1 |